Parish Administration
His Grace, Bishop Gregory of Nyssa, Diocesan Bishop
Voice: (814) 539-9143
Email Bishop Gregory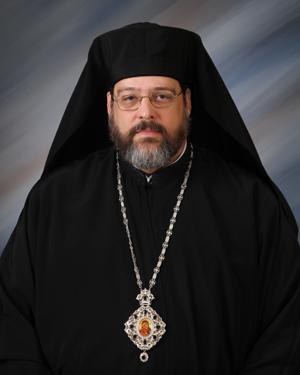 His Grace, Bishop Gregory of Nyssa, is the spirtual leader of the American Carpatho-Russian Orthodox Diocese, which maintains offices at 312 Garfield Street, Johnstown, Pennsylvania, 15906.
His Grace, Bishop Gregory was consecrated as Bishop and enthroned as the Ruling Hierarch of the American Carpatho-Russian Orthodox Diocese of the USA on November 27, 2012.
His Grace celebrates his Name's Day (St. Gregory Palamas) on November 14/27.
Under His Grace's care is our Diocesan Christ the Saviour Seminary, also in Johnstown, Pennsylvania, which trains future priests and deacons of our Diocese. In addition, the Diocese maintains Camp Nazareth Youth and Retreat Center in Mercer, Pennsylvania.
Bishop Gregory also serves as Episcopal Liaison to the Orthodox Christian Fellowship and Chairman of Committee for Agencies and Endorsed Organizations of the Assembly of Canonical Orthodox Bishops of the United States of America.
ETERNAL MEMORY
Very Rev. Protopresbyter Ronald A. Hazuda, Pastor Emeritus

Very Rev Protopresbyter Ronald Hazuda served St. Nicholas Parish since 1959, until Falling Asleep in the Lord on May 5, 2017. Ordained a priest in 1958, he was assigned to Sts. Peter and Paul Orthodox Church in Newark, NJ.
For more than fifty years, Fr. Ronald served the faithful of St. Nicholas Church with piety, strength and unwavering faith. In addition to serving the Parish family of St. Nicholas Church, Father Ronald offered his business acumen to the Diocese, and faithfully served as Diocesan Treasurer.
As Pastor Emeritus, he always stood ready to assist as needed; and also served the parishioners of St. Mary's Church, our sister parish in Corry, PA.
Besides his parents, he was preceded in death by his beloved wife Pani Dolores, sister Mary Opreskoe, and brothers John and George, Jr.
Fr. Ronald is survived by his daughter Tamara and son-in-law John Kloss; his son George and grandson Alexander Hazuda; two sisters, Anna Thear and Pani Eleanor Polanichka and her husband and his dear friend, Very Reverend Protopresbyter, Michael; and also survived by many nieces, nephews and godchildren. May his Memory be Eternal!
Deacon Artemius Stienstra, Esq.
(On temporary Assignment)

Reader David Tarasovich
Reader David is a life-long member of St. Nicholas Church. He has honorably served his beloved parish from a young age as an Altar Server. For several decades, he has provided direction and mentoring to parish altar servers. In 2001, David was tonsured a Reader.
Reader David is known and respected for his friendly disposition, attention to detail and full support of Liturgical Priest Celebrants and his Church.
Reader David married his wife, Debi in a ceremony at Sts. Cyril & Methodios Church at Camp Nazareth in 2007. He and Debi are active in animal rescue; and David enjoys following his favorite sports teams.
Church Officers
Richard Koerner - President
Elaine Stafford - Vice President
Sandra Kulich - Treasurer
David Tarasovich - Assistant Treasurer
Phyllis Tarasovich - Financial Secretary
Kathryn Zetts - Recording Secretary
Joanne Coursin - Trustee
Michael Gaydosh - Trustee
Gary Kulich - Trustee
John Lipchik - Trustee
Lorain Wyant - Trustee
Ann DiMarco - Parliamentarian, Auditor
Mark Beskid - Auditor
John Leonard - Auditor

Coordinators of Ministries
ACRY - Phyllis Tarasovich
Stewardship - Richard Koerner
Cemetery - Gary Kulich
Cemetery Landscaping/Maintenance - Andy Shufran
Church Lawn Care - John Leonard
St. Nick's Grove - Michael Gaydosh
Community Service - Phyllis Tarasovich
Digital Media - James DeHaven
Webmaster - Richard Koerner